Buy hand dryers and restroom products at ProDryers and have a chance at winning an iPad.  At ProDryers, our reviews are very important to us.  Most customers won't bother with reviews.  At ProDryers, we give you good reason to take a few seconds to review us after your purchase.
That's why, after just 50 public reviews, we'll pull an iPad winner.  You must have purchased something from us to review us at ResellerRatings.com.  After every 50 public reviews, we'll pull another winner!  ProDryers has the right to modify this contest at any time for any reason.
3 quick reasons why businesses should consider hand dryers:
1.  Brands such as the Excel Dryer XLERATOR, American Dryer EXTREMEAIR, and Dyson AIRBLADE all dry hands in 10-15 seconds and all eliminate paper towel costs up to 95%.  The XLERATOR and EXTREMEAIR are USA made machines.  Get the XLERATOR or EXTREMEAIR at the absolute best prices anywhere and get same day free shipping.  Choose 2nd day Air free of charge and get the high speed hand dryers in just 2 business days.
2.  Promote positive experiences in the restroom.  From businesses such as restaurants, shopping centers, bar & grills, hotels, amusement parks, zoos, museums, gyms, fitness centers, car dealerships and more to facilities such as schools, colleges, day cares, state parks, hospitals, office buildings and much more, hand dryers will promote positive, hygienic, experiences and create a word of mouth that paper towels can't compete with.
3.  Improve hygiene and restroom sanitation.  Hand dryers with todays high speed technology a far superior to paper towel when it comes to hygiene and sanitation.  Learn the truth about hand dryers vs. paper towels.
ProDryers also offers a 3 in 1 guarantee with your purchase that no other distributor can beat: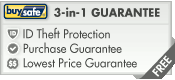 Buy hand dryers at the cheapest, discount prices and get free shipping; plus, get entered to win an iPad after just 50 public reviews at ProDryers!